Online roulette is one of the most popular games among Swiss players that prefer the thrill of an online casino. Read on this in-depth guide to know all the things related to the much-favored table game. And consider top online Swiss-operated casinos to register with.
Which operator to Play online roulette
Casino
Welcome Bonus
Play Now
Casino777

100% up to CHF 777 + 100 Freespins
Gamrfirst

 

100% BONUS UP TO CHF 1000 + 1040 CASH SPINS
Mycasino

100% bonus up to CHF 300 + 200 free spins in Golden Rabbit
Some of the online casinos with exceptional online roulette sections are as follows. Kindly note, though, that besides an interesting signup offer, the selected casinos met several more strict requirements/criteria.
Accepting Swiss players and Swiss francs, having stellar reputation, and excellent customer service were among them.
What is online roulette?
Online roulette has the same layout you see at land-based casinos. Most of the floor space is covered by a green felt that is laid on a long table.
The felt comes with numbers and colours which indicate various types of bets. You see a wheel at the end of the table with 37 numbered slots. In some European casinos, this table is in the middle, though.
Also, in American roulette tables, there is an extra number ("00"). A croupier (aka dealer) – the person in charge of the gaming table – gathers in the bets, calls "No more bets", and spins the wheel after tossing in a ball.
The ball eventually falls into one of the slots due to gravity after the momentum slows down, and the ball no longer spins along the rim of the wheel. If the ball lands on the number that you have bet on, you win.
What is different with the online game?
Now, in online roulette, you can expect a few different formats. For example, a remote croupier (aka live dealer) operates the wheel while all the betting is done through a video screen automatically.
In some other instances, the betting layout and the wheel are both automated and animated. The betting rounds are different in online roulette as well, compared to land-based casinos.
For starters, you play solo with nobody else but yourself. This means that you decide when the game will start. You simply place the bets you want and hit the Spin button, so the electronic wheel starts spinning.
Besides, unlike with land-based casinos, you don't need to wait a few minutes between spins, which means more spins per hour for you.
In addition, it does not take the ball that much time to drop into the spots. For most roulette fans, the speed of the game is a key factor to prefer playing online.
Moreover, the betting limits at a roulette casino online are usually smaller than those of a physical casino.
To you, the player, this translates into playing games that come with much lower stakes. That way, novice players can try a game without having to invest a lot of money to try a game.
Beginner's guide to online roulette – how to get started
The process to follow is straightforward and includes the following steps:
Register with a reliable online casino.

Make your first qualifying deposit to claim the welcome bonus (most operators offer signup promos).

Head to the online casino's Roulette or Live Dealer section and place your first bet. To do so, you select the desired chip size (you may place your bet by clicking on the table layout).

Click the Spin button. If you have correctly predicted the number the ball finally lands on, you win and collect your winnings.
Benefits of online roulette
The game has multiple aspects that are better than the offline version. Besides the faster speed of the game and the potential to make more money, it is also way more convenient. You don't need to travel or spend hours traveling to get to a roulette casino to play your favourite game. Furthermore, you get to choose your stakes.
Many online roulette tables enable bets as small as one dollar or equivalent currency per spin (or even less). There is no way to find such low stakes at a physical casino.
Not to mention the fact that you may also play for free (Demo mode or using bonus money). On top of all that, you are in charge of your own game.
No need to wait for players to lay their bets or the croupier to spin the wheel. This means less time spent between spins; hence, more earning potential.
Finally, let's not forget the incentives online operators offer their casino players (i.e., VIP schemes, bonus cash, etc.). And, of course, nobody stops you from playing at two or more roulette casinos at the same time.
Where to play online roulette – top 3 sites
| Best operators | Register |
| --- | --- |
| Casino777 | |
| Jackpots.ch | Coming Soon>> |
| StarVegas | Coming Soon>> |
A list of the best casinos licensed to operate in Switzerland is in the table above. Note that we have selected the specific operators based on several factors. These include the welcome offers, the availability of a live casino section, the game selection, the available payment methods, and more.
Needless to say, accepting Swiss Francs and having stellar mobile apps or sites were also a must. Finally, compared to the other operators mentioned above, the selected three offer a slightly more generous signup bonus.
Casino777 has a large collection of slots, progressive jackpots, and exclusive titles. However, it seems that roulette is something of its speciality,
as it is coming forward with a wealth of both high and low-stakes editions of European, French, and American roulette variants. It also offers live casino options that improve the overall gambling experience.
Jackpots.ch is the first legal online casino in Switzerland. It has been authorised for Swiss players, providing offers cut specifically for them. Its game selection includes casino games that the Swiss gambling law allows, including Roulette. Jackpots.ch is operated by one of the leading casinos in Switzerland, Grand Casino Baden.
StarVegas is powered by Greentube and is part of a milestone partnership with the Swiss Casino Interlaken.
Its online casino games collection is a strong asset for StarVegas, with new titles being added continuously. Its welcome bonuses are also not to be missed.
Live roulette
In live roulette, the roulette casino places a real person to spin a real wheel. Note that this service may not be available in all countries, though.
That being said, a live roulette gives you the sensation you get from playing at a brick-and-mortar casino. Compared to playing a traditional roulette game, a live roulette allows you to interact with the dealer.
There is usually a chat service where you can type things for the dealer to read and vice versa. And, if you have a question about the game, you can always ask the real croupier for assistance.
Most of the time, they do a great job explaining the ins and outs of the game. Last but not least, you see all the action in real-time via video cameras. All that combined certainly adds to the overall gambling experience.
How long does it take to learn online roulette?
Learning the basics of roulette playing is not difficult. The rules are simple, and the list of regulations is not particularly long. You simply bet on the preferred number or set of numbers or colours. Actually, what makes it slower to learn is when you want to apply a betting strategy. Of course, the more you play, the better you learn the ropes. That being said, there is no system that can guarantee wins for you.
Different types of online roulette
There are several different types of online roulette. The most common ones are the American Roulette, the European Roulette, and the French Roulette.
American Roulette
At first, all American casinos used the European version of the game. Nevertheless, the Americans decided to add an extra number on the wheel. So, instead of the 37 numbers of the European roulette,
the American version has 38 – double zero ("00"). This is not good news for players because it doubles the house edge. It is just a way for American-based casinos to increase their revenue after seeing how popular the game has become.
European Roulette
This is how the roulette game was originally built. The European roulette wheel is numbered from 1-36, also including zero ("0"). The house edge is the 37th number, the zero. For every chip bet at European roulette, the pay per number you choose is 35:1.
French Roulette
The French were the inventors of French roulette. However, the French variant is not as widely played as its other counterparts. The table is the same as the European version. The difference is in the available bet types. French Roulette players have more options to choose from (i.e., the insurance-style bet for the times the ball falls on zero).
Terminology of online roulette
Below is a list of the most used terms in roulette that beginners will be good to know.
Announced Bet – A wager that is placed right after a player calls it out.
Bet on the Layout – A bet you place on any number of the table.
Block Betting – A wager laid on a block of numbers in the same section on the wheel.
Call Bet – Bets made without placing chips on the table (you speak it aloud).
Column Bet – The numbers on the betting table form three columns – each consisting of 12 numbers. Wagers laid on any number in any of these columns is a column bet and pays 2:1 (Colonne in French Roulette).
Corner Bet – Also referred to as Quad Bet, Square Bet, Carr, or Carre Bet (in French Roulette), it is a bet that pays out 8:1. It is placed on four numbers.
Croupier – A croupier or dealer is an individual (casino employee) that is responsible for overseeing the roulette gameplay.
Dozen Bet – A wager that you place on a number between 1-12, 13-24, or 25-36 and plays 2:1.
En Prison – A roulette regulation that is applied to even-money bets when the ball falls in zero. Some roulette casinos will give half the bet money back or allow the player to leave the bet for a forthcoming spin. If the next spin is also zero, the player loses their entire bet, in the latter case.
French Bet – Making multiple bets in one go, covering all of the numbers in a section of the roulette wheel. A popular bet type across European casinos for high rollers.
Other terminologies
House Edge – The percentage per wager placed that the roulette casino holds over the player. The house edge in European Roulette games is 2.70%.
Inside Bet – A wager placed on either small groups of numbers of individual numbers. It pays quite high odds.
La Partage – A regulation similar to En Prison, where the player gets to keep half of their bet if the ball lands on zero. There is no other option available and refers to Odd/Even, High-Low, and Red/Black even-money bets.
Mini Roulette – Some online casinos offer a smaller roulette version that comprises 13 numbers (0-12). These games also abide by the Le Partage rule.
Orphans – Bets solely placed on either number 6, 17, or 34, which are adjacent to the wheel.
Outside Bet – Wagers laid on the outside sections of the wheel. Many are odd/even, red/black, and other even-money bets.
Pockets – Another word for slots and refers to the areas on the wheel in which the ball may fall. Half of the pickets are coloured black while the other half are red. Green represents the zero or zeros (depending on the roulette variant).
Online roulette system – Some strategies
Consider a roulette system as a betting method a player uses to help boost their winning edge when playing roulette. Some of the most popular strategies are listed right below.
The Martingale System – The oldest betting system where players bet on a proposition for a long time. The theory claims that if you bet on the same number(s) over and over again, the win finally comes through. Increasing your wager every time it loses will help make a profit eventually. It was a strategy once applied exclusively on outside bets.
The Anti-Martingale System – This method suggests the player benefits from increasing their wagers after a winning streak while reducing them after a loss. However, there is no way a roulette wheel "remembers" the previous outcomes since each spin is entirely independent. So, there is no mathematical reasoning behind this method.
The D'Alembert System – Unlike with the Martingale system, this method requires players to lower their wager by one unit after a winning bet and increase their wager by one unit after a loss. Nevertheless, nothing guarantees that the more a number or outcome you have not selected happens/comes out, the more likely it is for the number you have chosen to come out.
The "Three-To-Two" System – Also referred to as the James Bond strategy, it "calls" a player to bet on the Red and the 2nd column or the Black and the 3rd column. In detail, they need to place 2 units in either Red or Black, respectively, for every 3 units they place on the colour. It is quite a promising system, just like Martingale, at least technically, as it covers around 70% of the wheel.
Other strategies
The Labouchere System – This strategy involves setting a number of predetermined even-money propositions. The only case you can add wagers is if you need to cover your losses. Therefore, you usually end up making a return on your original set of wagers. If you start with a 1:1 line at a one-dollar table, you may actually make some nice money with this strategy.
Betting on Red (or Black or Even/Odd) – It is a simple betting system where you lay a wager on either black, red, or even/odd with a fixed amount for a fixed number of spins.
The Fibonacci System – It is believed to be one of the safest strategies when playing roulette. It allows players to play with small wagers and win small amounts of money. It is based on the Fibonacci numbers – a sequence of numbers where the next number is the sum of the previous two numbers. The numbers start with 1, but you can begin with any bet sum. You only need to stay loyal to the logic of the sequence.
Now, if you are wondering whether there is a foolproof roulette system, know that there is none. This is because the element of chance is very strong in roulette games compared to other roulette casino options.
However, some methods can indeed help you increase your winning chances. The Martingale system, for example, is believed to work well for outside bets.
The probability of ending up with a winning bet is close to 50%. You may, however, hit the table limit sooner than what you would want so that you can make up for the lost money. For inside bets, flat progression systems, such as the D'Alembert strategy, appear to be more suited.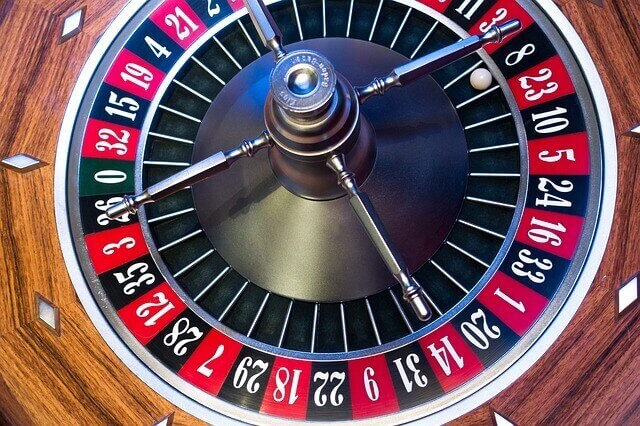 Mobile version of online roulette
Most online casinos provide dedicated apps for players on the go to use. That way, they can play roulette from any portable device. Even if an app is not available, the mobile sites of operators are fully functional and user-friendly. You may access an online casino platform from a smartphone, tablet, or another mobile device.
Many times, online casinos offer exclusive bonuses and promos to mobile users. This is an added advantage to playing roulette on your phone.
However, you will need a stable internet connection to enjoy the experience.